GLLUG Merchandise
A couple of years ago we had the good sense to print up some GLLUG t-shirts. We can still order shirts from our store at Printfection, if you didn't get one when we had our bulk order.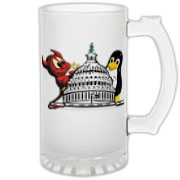 We have also added a fine collection of new products:
NOTE: these products are designed and sold by a third-party. Non-GLLUG products sold by this third-party may be offensive, in poor taste, or just plain ugly (GLLUG items are of course elegant and in excellent taste). He's like that, but we continue to associate with him because he brings the beer.